« Back to Le Best Of du Merchandising en PHOTOS
BMW EDGE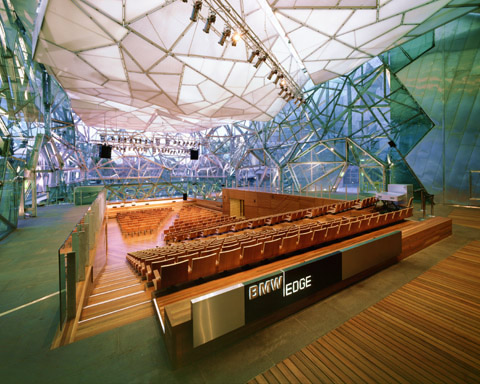 Federation Square est situé à Melbourne en Australie. Je le trouve inoui.
quelques précisions sur le projet (en anglais)
Designed to provide Melbourne, Australia, with a unifying public space, Federation Square is a landmark destination, built over a major railway yard and linking the city's central business district to its riverfront. The city block-sized development combines open spaces with innovative architecture housing museums, offices, restaurants, shops, and performance venues. A major public/private venture, the site is projected to draw some six million visitors a year, many of whom will come for events such as concerts, lectures, and impromptu performances.
The heart of Federation Square is the square itself, a sloping, sandstone-paved, irregularly-shaped plaza surrounded by raised planter beds, restaurants, cafes and bars. With a capacity of 10,000, the square features a Barco DLite LED screen for large-screen video and offers casual seating for outdoor performances, exhibitions, and outdoor viewing of events such as the Rugby World Cup