« Back to Tendances Eclairages
Electronic Arts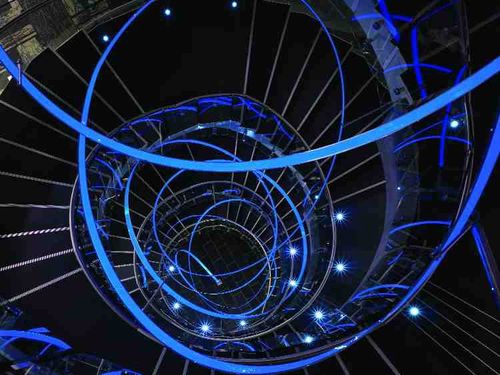 10th Annual Best of Canada Design Competition / Category: Lighting (2007)
Electronic Arts Canada, Burnaby, B.C.
MCM Interiors, Vancouver
Electronic Arts is the world's leading developer and publisher of interactive entertainment software. The company challenged the design team at MCM Interiors to create its next generation of high-performance workspace, suggesting that if the first EA building, completed in 1999, was version 1.0, then this new studio building should be version 4.0.
Light boxes, square pixel LED lights and colour-changing LEDs are used throughout the space. A staircase spirals up the building's central atrium, connecting the five floors. In the centre of the staircase is a photo-luminescent light tape sculpture, inspired by the EA game SSX, where a snowboard's movements are tracked by a blue light as the boarder races down a mountain. The light tape flips, twists and turns. It can be modified to pulsate quickly or slowly and the pulse can move from the top of the five-storey-tall fixture to the bottom, where it terminates into a square stainless steel box mounted on the slate flooring of the ground floor
(source: Canadian Interiors)